Looking for the giveaway?
Click here!
Only one more day!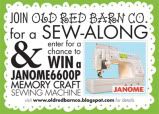 So, I'm officially in for the Old Red Barn quilt along... I haven't posted my fabric pics in Flickr yet - I'm probably the only one left on the planet without an account there!! But hopefully soon.
I was having a hard time picking out fabric from my stash, but then I had a brilliant idea. It's a long story (I'll post all the details some day, I'm sure), but I happen to have a bunch of pre-cut strips from someone else's abandoned quilt project. There are 20 different fabrics (a mix of batiks and tonal prints), each with 2 5.5" strips, plus waste strips of about 3". Many of the strips were already paired up with strips of the light background fabric, and marked for sewing triangles (and a few were already sewn). The bin it came in was labeled "Jewel Box", so I'm pretty sure it was intended to be
this quilt
.
It's not anything I'd pick out for myself, but my MIL loves colors like this, so I think this might become her xmas gift. It's also not the exact amounts specified for the quilt along (12 fabrics, 6 or 7 strips each), since I've got 5 strips of 20 fabrics. But the total number is about the same, and the pattern seems pretty flexible, so I'm hoping it will all work out in the end. And I really LOVE that this project will finally get done, even if it's in a different form.
After a couple hours of trimming, I ended up with this...
and this! :-) For the record, it's not much fun to re-cut strips!!